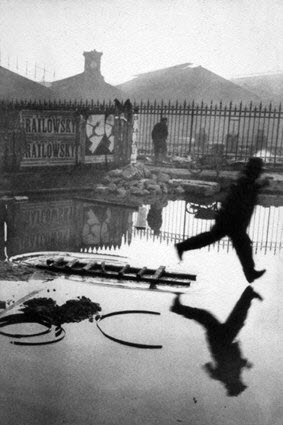 Man Jumping the Puddle
Henri Cartier-Bresson 1930
Place de l'Europe is one of Cartier-Bresson's most successful images. The snapshot of a man gleefully hopping over a flooded area in Paris captures the moment just before the man's heel hits the water. The instant is filled with a sort of dynamic anticipation. A hazily-captured building in the distance contrasts with the richly ornamented, spiked fence and the two diverse elements combine in an alchemy of lines, curves, and reflections that creates the urban background for the jumper. Diagonal to the figure is a poster featuring a finely-drawn image of a female dancer leaping gracefully into the air. The poster for a circus called "Railowsky" is a visual play on the jumper's stiff stride that extends in a blur across the picture frame.
The spontaneity of the photo, which was captured in the bustling urban space, the Place de l'Europe outside of the busy Paris train station of Saint Lazare, epitomized the new, fast-paced environment in Europe with its trains, cars, and factories. Modern motion is celebrated by the fact that it is forever stopped, the leaping man will never hit the puddle, the split-second image is permanently frozen in time. The improvements in camera technology allowed for such images to be made and this progress is celebrated in Cartier-Bresson's photographs.
The iconic railway served as the setting for many famous 20th-century painters such as Manet, Caillebotte, and Monet, all of whom had been influential in Cartier-Bresson's own artistic development. This photo would also come to embody what he later described as the "decisive moment" – that instant a photographer decides to press the shutter and the event it memorializes.
Place de l'Europe is one of only a few photographs that Cartier-Bresson ever chose to crop. Ordinarily, he avoided adjusting his work after originally framing a shot and instead embraced unmediated chance encounters, an aesthetic preference and practice that made him one of the founders of street photography. A fragment of the fence that he is behind can be seen in the original shot and partially obscures the view.
Gelatin silver print – The Museum of Modern Art, New York, New York